For my first #pic2stitch challenge, I decided to focus on The man Engine.
For anyone who missed it, The Man Engine is a mechanical puppet of a miner which is 4.5 metres tall when crawling and 10 metres tall when standing.
We were lucky to be able to travel to St Austell during one of the puppet's transformations.  There was a big crowd, so we couldn't see at first, but the organisers were really good in encouraging the crowd to keep moving to let people further back view it too.  Phill managed to take some pictures and it was from one of these pictures that I decided to create my first picture to stitch transformation.
I wanted to create more of an outline of the Man Engine, so i used Photoshop Elements to edit the picture.  I erased a lot of the background data to make it easier to work out which parts were Man Engine and which weren't!
I quite liked the image on the left, where I've used the water paper effect after deleting most of the background.  However, I stuck with my original plan, and used the photocopy effect to create a black and white version of the photo.
As this was a big project with much detail, I decided to use a water soluble pen to mark out the details on the edited photograph.  With the pen and a window, I traced the design onto calico.
The photo selection, editing and then transfer to calico took around 3 hours.  In the afternoon, I began to stitch the design, which took around 4 hours, including short breaks to relax my eyes and wrists! I took a couple of hours to decide how to frame it, looking at different frames online and trialing the design in ones I had at home already.  In the end I went for the box frame below, which is a 3D frame, but is the perfect size for it.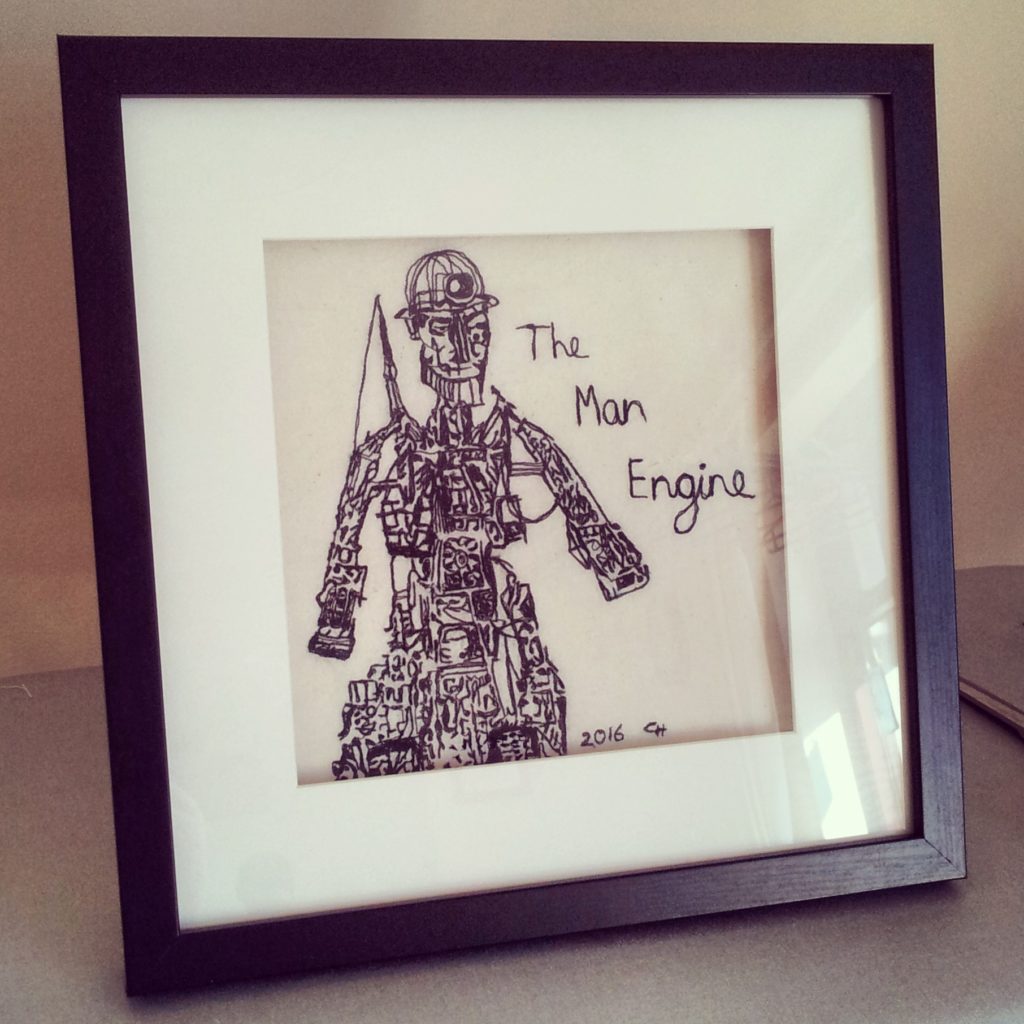 Here is the end result.  I was considering using some embroidery strands to highlight the puppet's ropes, but in the end I decided to leave it how it was.  I did add its name, the year and my initials – I can't seem to resist a bit of freehand writing with stitch!
I really enjoyed this make.  It was nice to spend the day on it and finish with a completed piece.
If you would like to view how I made this finished piece, I did record the machine embroidery section and have uploaded it onto youtube here.  I will warn you that it's quite a long video despite speeding it up to ten times the actual time it took me!
For more information about the Man Engine, there is a useful article on the BBC website.  There was a website set up for the Men Engine's tour but it now advises to check Facebook and Twitter for an update on what's next for it.  There's also the Cornish Mining Heritage website, who funded the project.