In recent years, I have become much less of a minimalist in my sewing tools.  And I have to admit, most of them are not essentials, or even necessary, but they are fun additions to have if someone is struggling to find you a gift!
Here are my top non-essential tools for sewing that I own.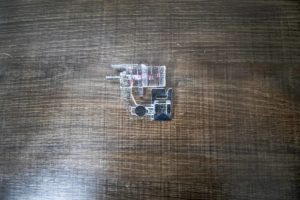 The bias binding foot is something I marvelled at when I first became acquainted with it.  It felt like the most amazing presser foot ever (with the exception of the walking foot) and couldn't wait to use it at every opportunity!  Essentially, it is a tool which, when used correctly, slashes your time in attaching bias binding in the usual method because it lines it up with the edge of your fabric and attaches both sides with one lot of stitching!
But let's be honest.  It's not necessary, and it's not even usable if you want to use bias binding for one of its other uses, such as a hem or neck binding where it sits on the inside of the garment.  I've also grown fond of the method where you machine sew the first side and then hand sew the other side because I prefer the finish now (perhaps because I am a much more patient hand sewist these days).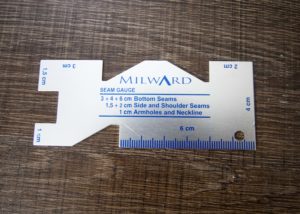 The seam gauge is a ridiculously handy tool.  It's pretty small so I misplace it a lot, and this frustrates me as I am now so used to relying on it.  Essentially, it is a much easier marker for the key measurements in dressmaking to make adding seam allowance, marking up hems or even tacking at the right distance much quicker.
However, you don't need a fancy tool for this (although they don't cost too much…) – you just need a tape measure.  Or you could even mark a bit of cardboard with the measurement you need.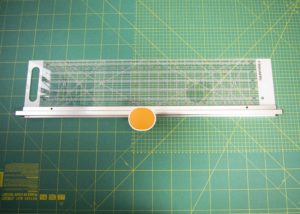 This is probably the most expensive item on my list!  It is completely superfluous and sometimes not practical at all, but if you do bag making or sewing which involves many straight lines, this is quite a groovy tool to own.  It is, admittedly, a quilting ruler with a rotary cutter attached, but depending on the fabric, it can cut through several layers and does prevent the blade drifting away from your ruler.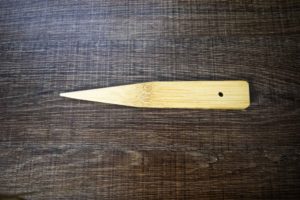 4. Corner and Edge Shaper
This tool is so handy for getting those crisp corners out when making a collar or poking the corners out on the base of a bag.  It is probably designed to be a perfect shape for the job, but I used to just find items around the house to help me before I owned it.  I must admit though – I did poke many holes through fabric by using a rogue knitting needle instead…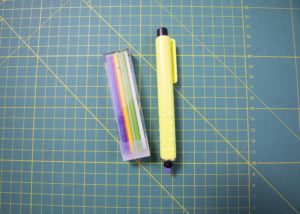 The reason I have put this item on the list is because you do not need a fancy dispenser to use chalk – you can just buy chalk triangles or squares.  It is a bit messier this way though.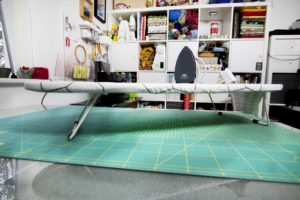 My final luxury tools are grouped together because they go well together: it's the mini iron and the mini ironing board!  They really are not needed as I have full size ironing board which is a lot handier for ironing bigger pieces, but I do like to get the mini set out for convenience and to take up less space when I craft.
Admittedly, if you do not own an actual iron and ironing board, you could argue that these are sewing essentials, especially if you have limited space where you live.
There all the ones that I own that I can think of for now.  I suspect I have many more and there are many more out there!
I've linked my video on these items below: