Having made two of these cardigans, I felt it was time to write a review on this pattern.
I got Wendy Ward's Beginner's Guide to Sewing with Stretch Fabrics as a gift about a year ago, and while a few designs appealed to me, I didn't get round to tracing any patterns until around Christmas time.
The Kinder Cardigan is definitely the one which stands out for me in the book – especially the long, almost coatigan, version.  However, the first make was for my nan for Christmas.   It didn't begin well as I accidentally cut it out in the wrong fabric (a sure sign that you need to use up some of your stash if you have two similar ones…) and I had issues as I was using my mum's machine (which was my nan's machine incidentally) which was not too happy and was demonstrating this with unbalanced tension and tight stitches.  Still, I got there in the end and the end result inspired me to make one for myself.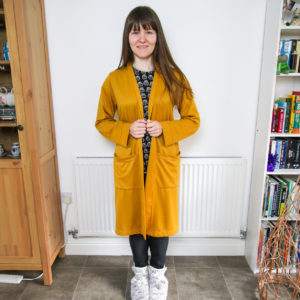 Pattern name:

Kinder

Variation/Style:

Long version with sleeve cuffs

Design House: 

Wendy Ward

Size I made: 

second size from left
The version I made for my nan was in a maroon-red and my version was in yellow.  Both I believe are Ponte fabrics due to their weight and characteristics (although I meant to make my nan's in a drapier red fabric…) but they felt quite different.  Perhaps the content of mine is a bit more synthetic, I'm not sure.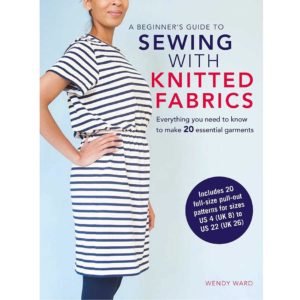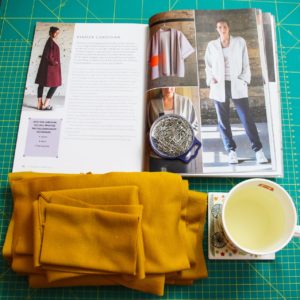 I would say it is a beginner friendly pattern as it is loose fit so not fit concerns and the construction is fairly straight forward.  It does have more pieces than some beginner patterns and I think it takes longer than others but it is a satisfying result at the end.
It is worth highlighting that if you want to make the version with pockets that you need to begin reading the instructions for the pocket version, which sit after the main construction instructions!  The book does highlight this, but I almost overlooked it both times I made it.  I just about remembered the second time.  I can't complain as it is highlighted at the beginning of the Kinder Cardigan instructions but it may be something someone else may overlook too in their excitement to begin.
Apart from the pockets instruction setting.  I found it all clear to understand and follow.  I appreciated the drawn illustrations which support the written directions and do not remember becoming confused at any point.
This is a loose fit cardigan which made it perfect as a gift.  However, I did lengthen the sleeves on my version by an inch and a half.  I have long arms, and I wanted the sleeves to reach just over my wrists.  A benefit to sewing your own cardigan is making these sorts of adjustments!
I think the fabrics I used work well, but I am not sure I would make the cropped version in such a structured fabric.  I would probably opt for a drapier fabric to make the look softer.
A lot of time is spent tracing the pattern from the book, and finding the different sections on the pieces!  However, I am aware that Wendy Ward now sells a PDF version on her site.  As long as you account for this time, it won't be a frustration.
I think it took me a weekend to sew up the first version, excluding cutting out.  However, I did have issues with the sewing machine I was using so this may have extended the time.
I made my yellow version in pockets of time over a week, so it is harder to work out the total time.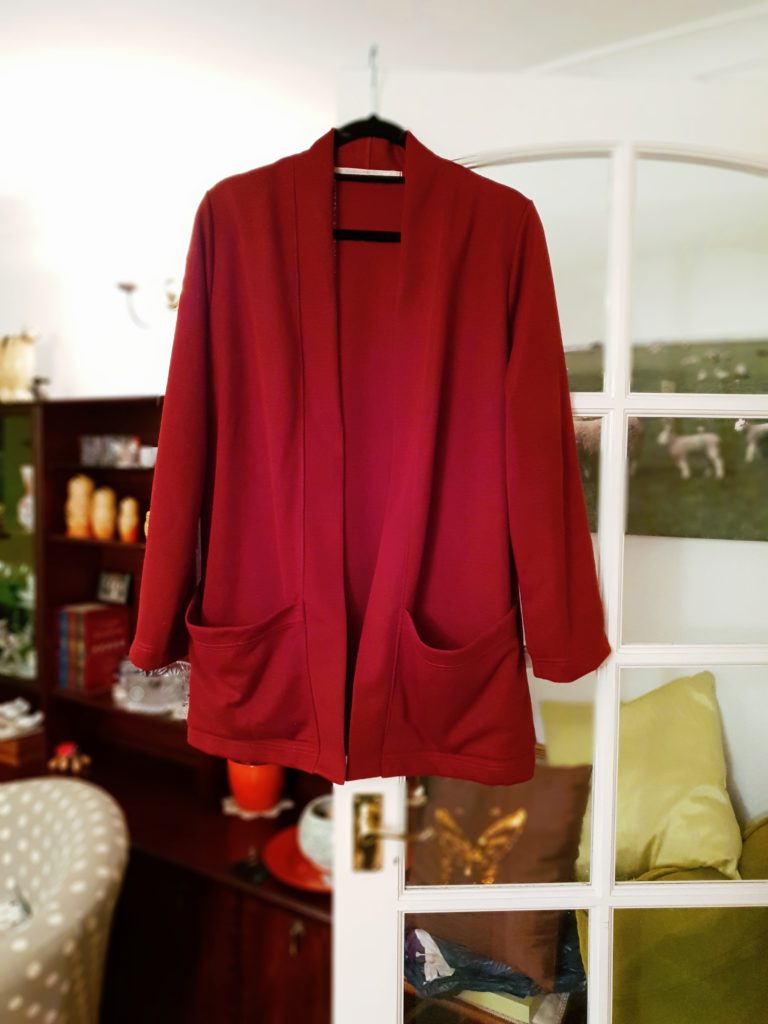 I am so happy with my yellow version and I hope that my nan is happy with her red version.  I am looking forward to warmer dry Spring mornings when I can opt for this over a coat!  I love the big boxy pockets and it feels like a timeless piece that will be in my wardrobe for years.