Today I am pleased to share with you the positive outcome of cutting into the wrong fabric last Christmas… it's the bibi pinafore!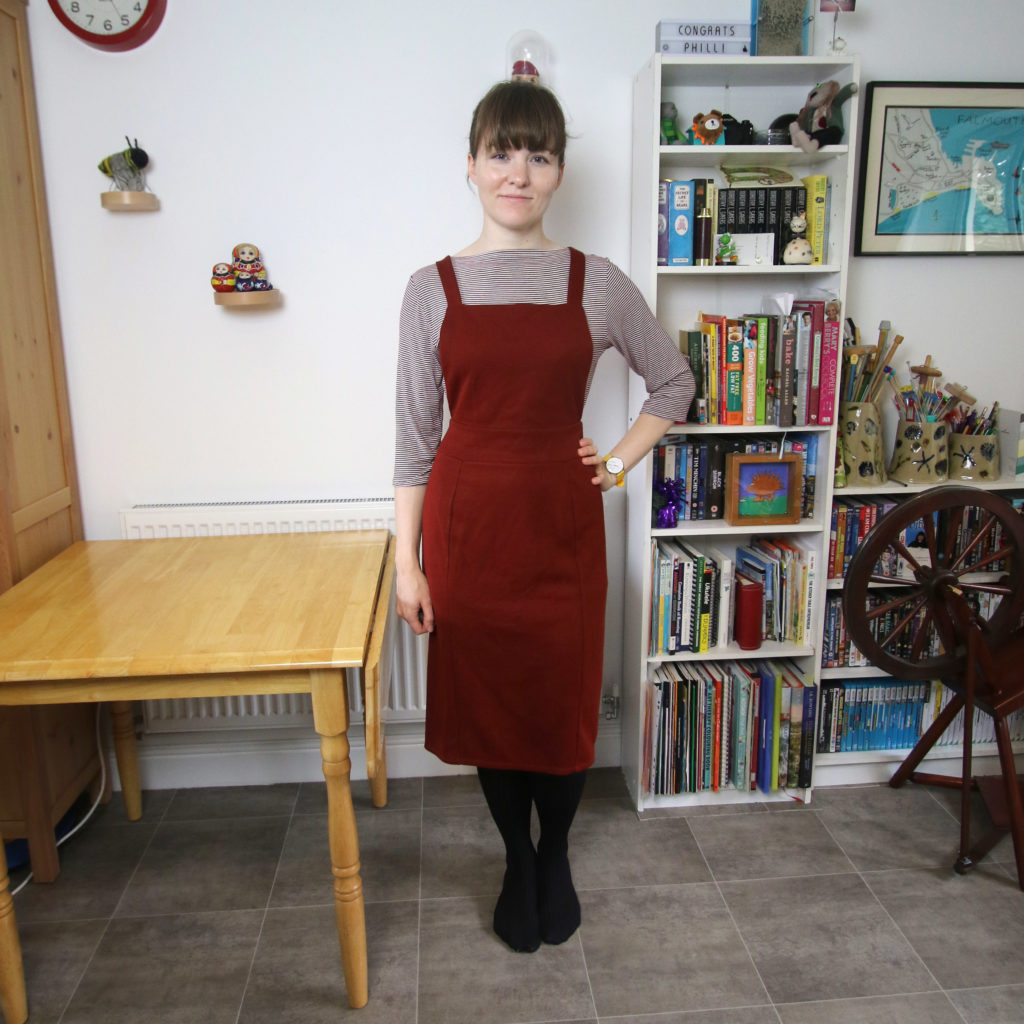 Pattern name: Bibi
Variation/Style: Pinafore
Design House: Tilly and the Buttons / Tilly Walnes book Stretch!
Size I made: 4
I used the leftover fabric from the Kinder cardigan I made my nan for Christmas.  As I have mentioned in that pattern review, I accidentally got two fabrics mixed up (downside to having a huge stash) and ended up cutting lovely thick ponte from a fabric shop in Tiverton which I was saving for a dress.  However, it has worked out beautifully for this make so I feel a lot better than I did at the time!  It is a lovely dark red and a nice quality.  I probably would not have made it from this if the meterage had not decreased as you do not need much fabric to make this pinafore.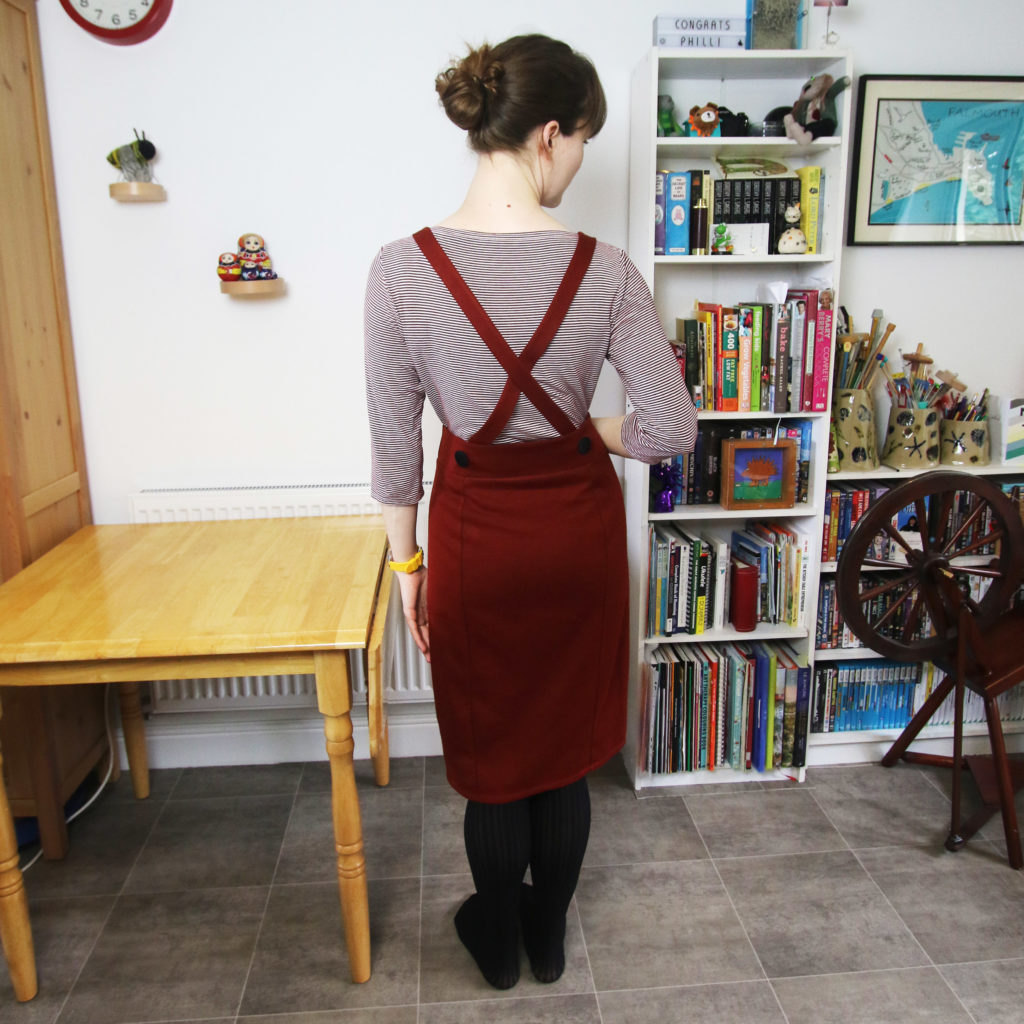 The Bibi skirt is the first pattern in the Stretch! book because it is the easiest and made with the most stable knit fabric.  It lived up to expectation and was a nice simple make.
The pinafore variation was not much harder – the bib and straps are provided on the pattern sheet and the instructions were clear on how to add these.
The only challenge I found was getting the straps attached in the right place.  I ended up adjusting them a couple of times to get it right.
I feel a bit like I always say this, but Tilly and the Buttons patterns are beginner friendly and feel as though you are being guided step by step.  
When I first got the book, I didn't want to make the Bibi skirt.  Firstly, I don't wear a lot of skirts, and secondly, I didn't think the shape would suit me.
When I saw the pinafore variation, I was smitten.  I have a soft spot for pinafores and this one was no different!  The great thing about this pinafore is that depending on your fabric choice, it can be smart enough to use as part of your work wardrobe!
The fit is perfect but I would like to make a note of caution – it has no zip or fastening so you need adequate stretch/strong machine stitching on the waistband to get it over your hips!
This was a really fast make which I made in a day.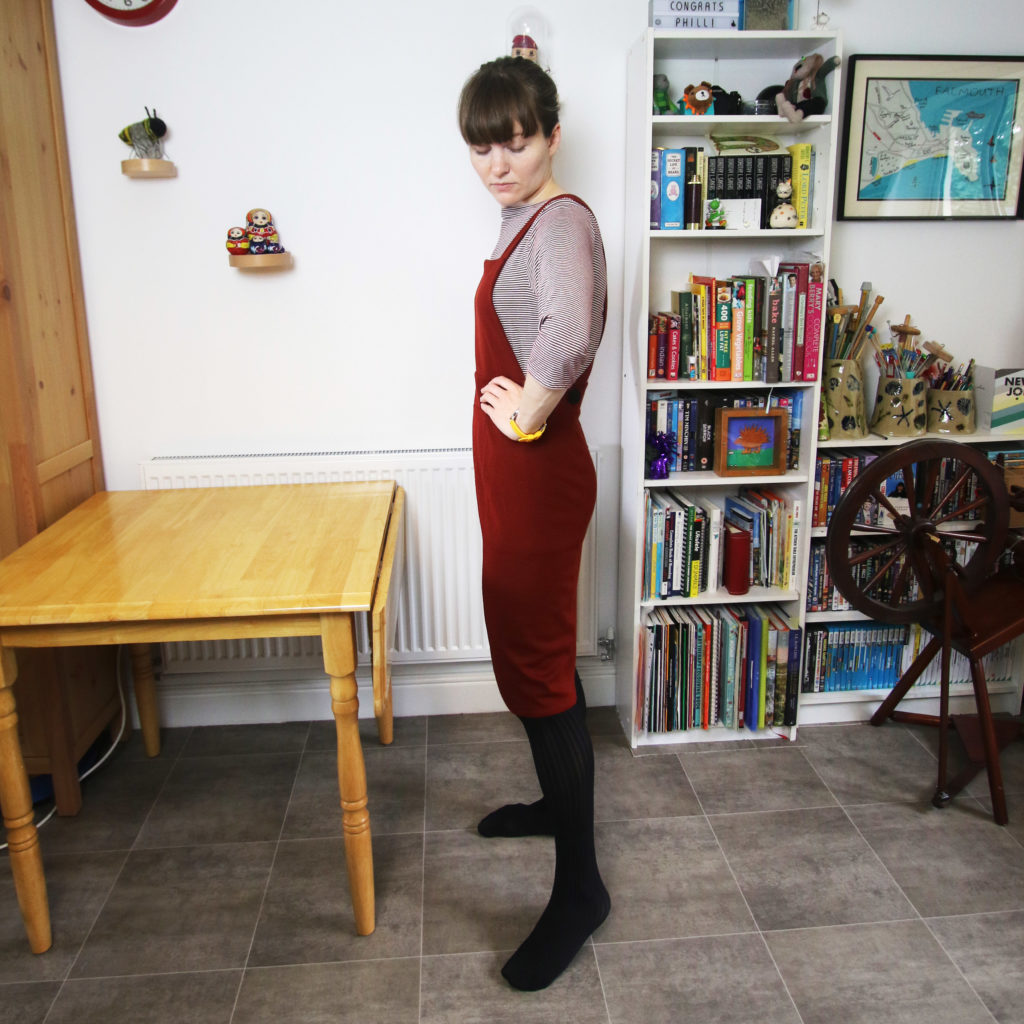 I am really impressed with this pattern and it works really well with the fabric.  I may even be tempted to make a regular Bibi skirt in the future!  Being in a knit fabric, it's very comfy and would see you through both a day off or working day.
You can watch my video review below: