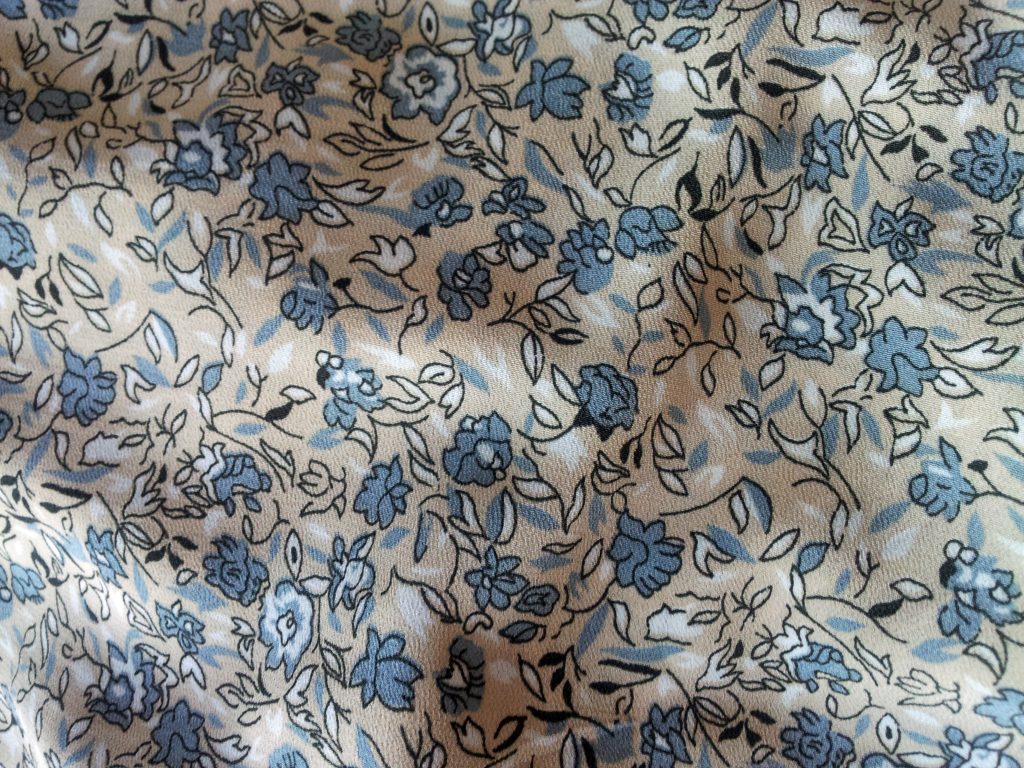 Once again, it's been a while since I've had another go at dressmaking.  I remedied this by combining a recent pattern in Simply Sewing with a recent material purchase!
There's a lovely charity shop nearby who sell craft supplies.  I was very lucky to go into the shop when they had a material sale on, which meant I got two fabrics for the price of one!  One of the fabrics I came across is this lovely one above.
I am not sure what type of material it is, but it drapes well and there was enough to try out the Poppy Playsuit by Sew Over It, which came with issue 16 of Simply Sewing.  The main criteria for the material for this pattern was one which drapes well so I had the perfect match!
This is the first pattern I have tried making a basic alteration with.  I found that the bust and waist measurements were close enough to one pattern size, but my hips definitely needed a smaller size.  The pattern pieces did not highlight where the hipline was, which was a shame, but I still made a basic alteration from the waist to one of the notches which I felt was close to the hip measurement area.
The fabric was a challenge to cut out as it moves easily – I found that pattern weights and then pinning it helped.  The pattern's instructions suggested pinning the edge of the fabric too, which was a useful tip.
As I was concerned about the material moving too much, I pinned and tacked at every stage.  Tacking increases the time considerably, but it did mean that I didn't have any major unpicking sessions!
The pattern directions are clear and and concise.  Key terms are defined, which saves a google search part way through your make!  The only section I had to re-read again was how to do the turn-ups, and they turned out to be really simple once I focused on the directions carefully.
The only bit of unpicking I had to do was related to the hook and eye.  I attached the hook so that it would meet the edge of the right hand side opening.  This caused a gape in the material when fastened.  I changed this by placing the hook on the very edge of the right hand side opening and put the bar further in on the left hand side.  Also, I didn't read the pattern carefully when attaching the facing and did a 1.5cm seam allowance instead of 1cm!
I was surprised by how long it took me to make this item, but that's mainly because (a) I'm rusty at dressmaking and (b) the material required more care than a standard cotton or linen.  However I think it's well worth it and I look forward to some warmer weather soon so I can wear it!!  I would definitely complete this pattern again, and I expect I would find it even easier and faster second time round.
Although it took some time, this pattern is great for beginners because (a) there are only 4 main parts to the pattern, (b) no darts, (c) the shaping and fastening is the hook and eye and elastic casing at the waist, which means no zips or buttonholes.  The fabric really helps to define its shape, so as long as you get that right, you'll end up with a lovely addition to your wardrobe!