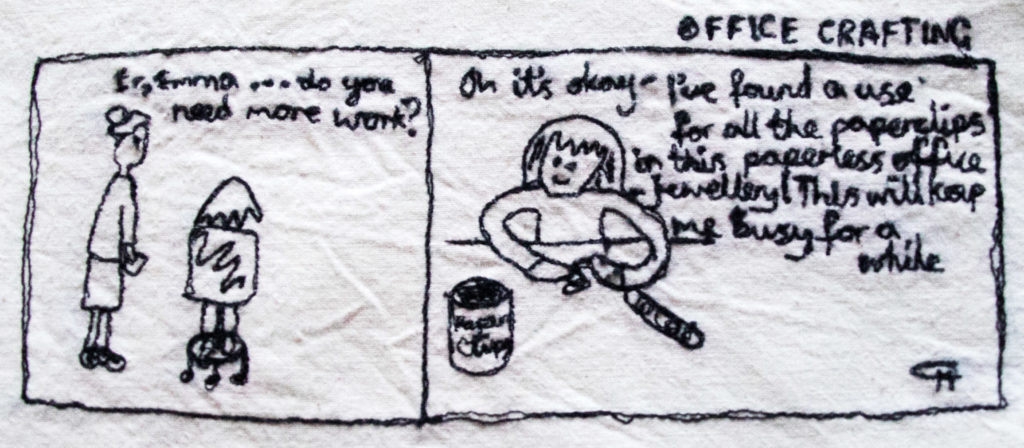 Recently I decided to revisit my doodles through free motion stitching.
Doodling can happen in all sorts of circumstances.  You could be on hold chasing up an order over the phone (or in the case of my first job, being the advisor on the other side of the line), waiting for a meeting to commence, sitting in the audience of a presentation or passing the time on the train.  Sometimes the doodling is abstract, and sometimes it turns into a miniature piece of artwork.
Many of the doodles I made when I worked as a customer advisor in a call centre focused on the more abstract sketches of wiggly lines and rough shading, punctuated by the odd cartoon cat.  We had green paper to use to make notes while we were on the phone, which we had to throw away as confidential waste at the end of our shift, so I don't have any of those scribbles anymore, and I doubt there were many of interest from that job either!
However, I have kept some of the sketches I've made over the years.  I decided to use these to practise my free machine embroidery.
I used a water soluble fabric pen to trace the whole design onto my scrap piece of calico.  However, I found that once I got a gauge of the letter sizing, I began to ignore the template.  I was concerned about writing with stitch so small, but it worked out well in the end.  I probably wouldn't attempt it when I'm tired though!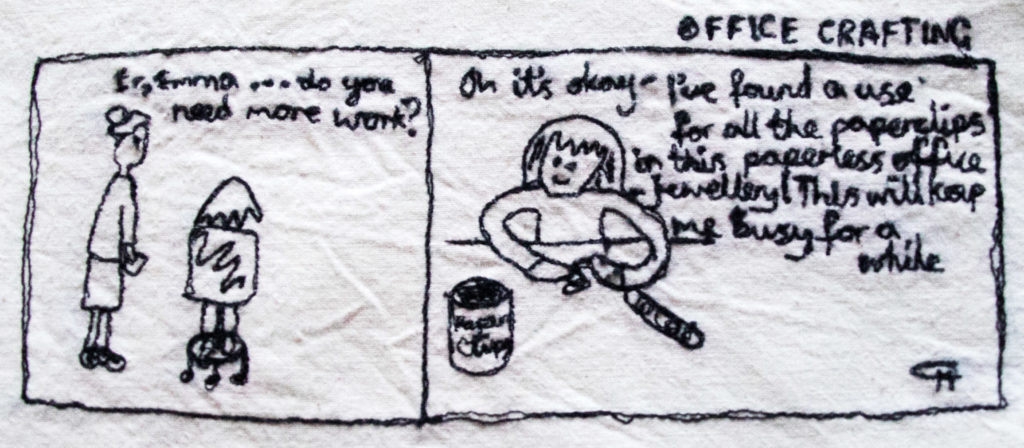 Overall, it was an interesting stitch.  I find that I prefer joining up letters when I stitch, whereas I found it difficult to allow the writing to be joined up, possibly due to the style  and format you normally see comics portrayed in!
I have some more comic strip ideas drafted, including a short series based on being a graduate and job interviews, which I will use to practise my machine embroidery skills with as well!