Recently I finished my biggest sewing accomplishment to date: the fitted shirt!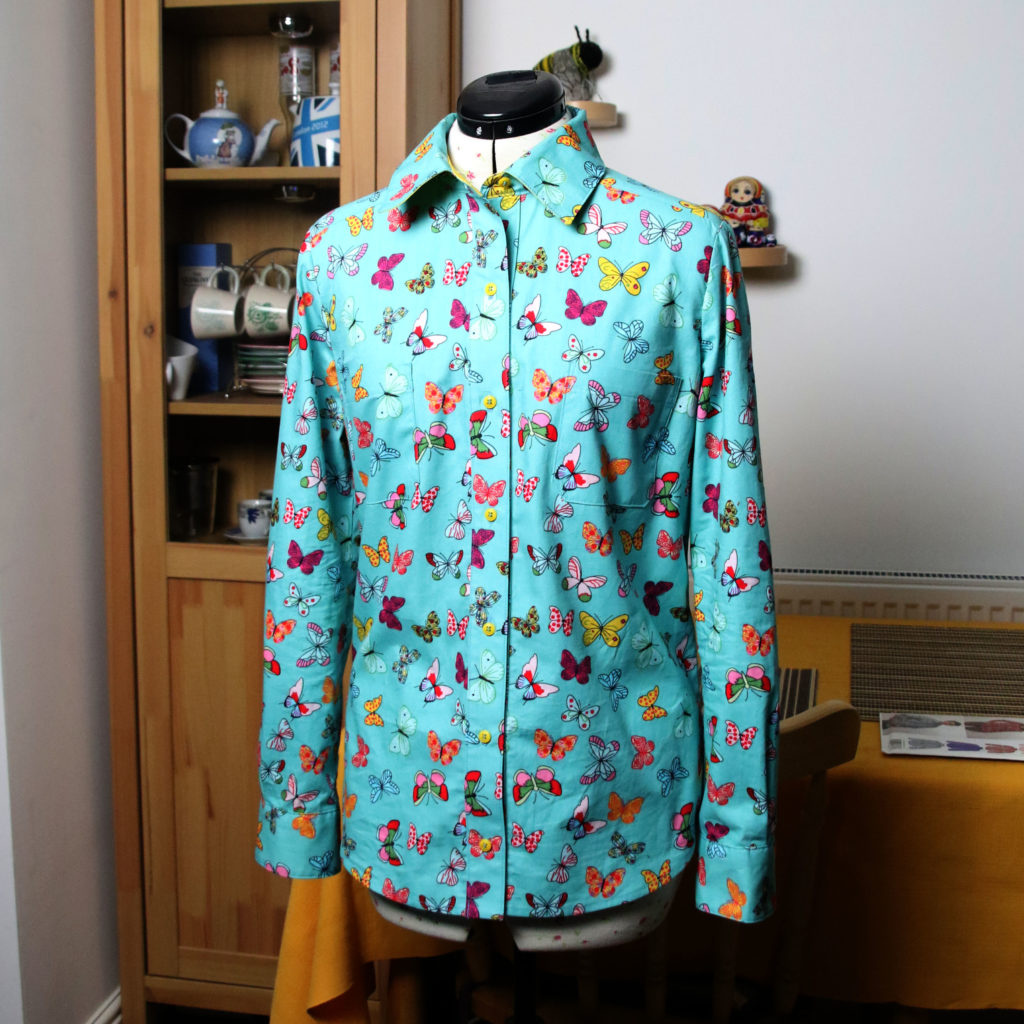 Pattern Name: 6232
Variation/style: women's version, C
Design House: New Look
Size I made: 14
Main fabric: butterfly cotton poplin fabric in aqua from Minerva Crafts online
Contrast fabric: Yellow cotton poplin fabric from Truro fabrics
Both fabrics were lovely to work with, along with washing and pressing well.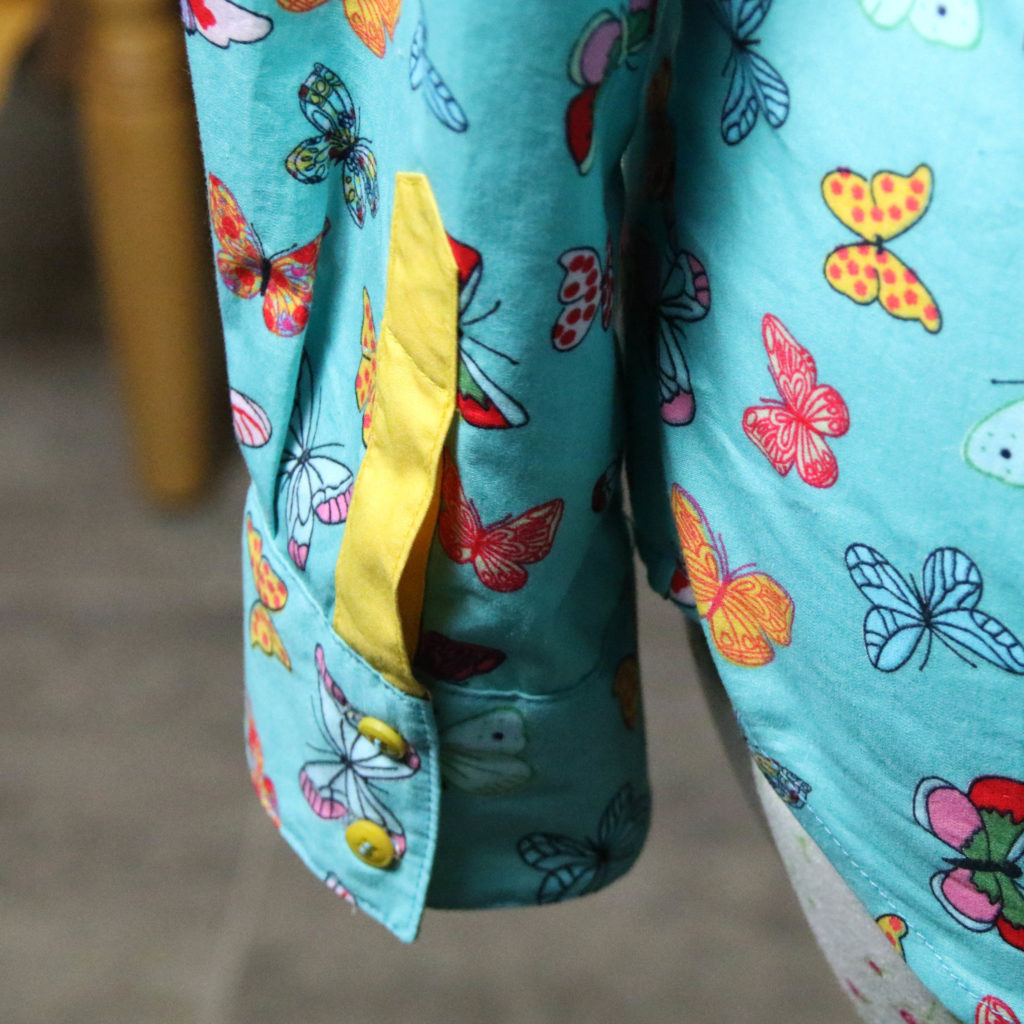 This was a challenging make.  I have never made a garment that is quite so technical.  However, I did choose it for that very reason as well!
There is a lot of interfacing to attach (cuffs, collar..), darts on the front and back, sleeve plackets, curved hem, buttonholes, pleats, front band – essentially jam-packed with techniques and skills!  However, the fabric choice did make it easier as it is so stable!  Also, I think choosing a patterned fabric is more forgiving than plain for any wobbly stitching.
The clarity of the pattern was okay overall.  As it is not an indie pattern, it is not as detailed, but the diagrams are clear.
The instructions do assume some prior knowledge.  For example, it does not advise you on how to ease the sleeve into the armhole; it just tells you to stitch it.
I was nervous about attaching the sleeve placket but I carefully followed the instructions and succeeded so where it does provide detailed instructions, it does it well.
I did take an inch off the sides but I'm not sure this was necessary or whether it may have been better to take half as much.  I may take less off next time.
Apart from that, I did not adjust.  The sleeves are a good length for me but I do have quite long arms.  I am not happy with my front band.  I think I need to re-sew a couple of buttons so it overlaps better and I think I misaligned the top buttonhole but I can't do much about that now.  I did re-sew the top button to minimise any gape between the top and second button.
I chose this pattern to tackle some classic shirt details such as the collar with button stand, cuffs, sleeve placket, front band and patch pockets.  It is packed with features including pleats in the sleeves.  It is a great classic shirt design.
It took me about 3 and a half months to complete this shirt as I took my time to gradually create it.  It took 3.5 hours to cut out all the pattern pieces alone!  There are a lot of small tasks so if you are looking for a long term project to tackle in small time windows then this could be the pattern for you.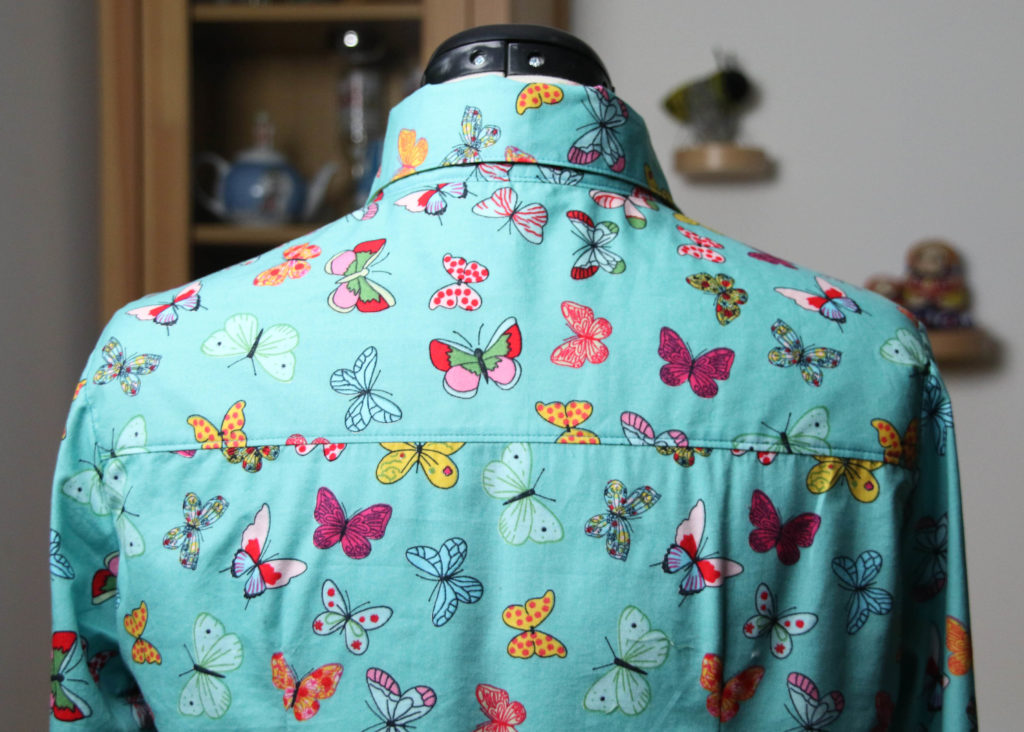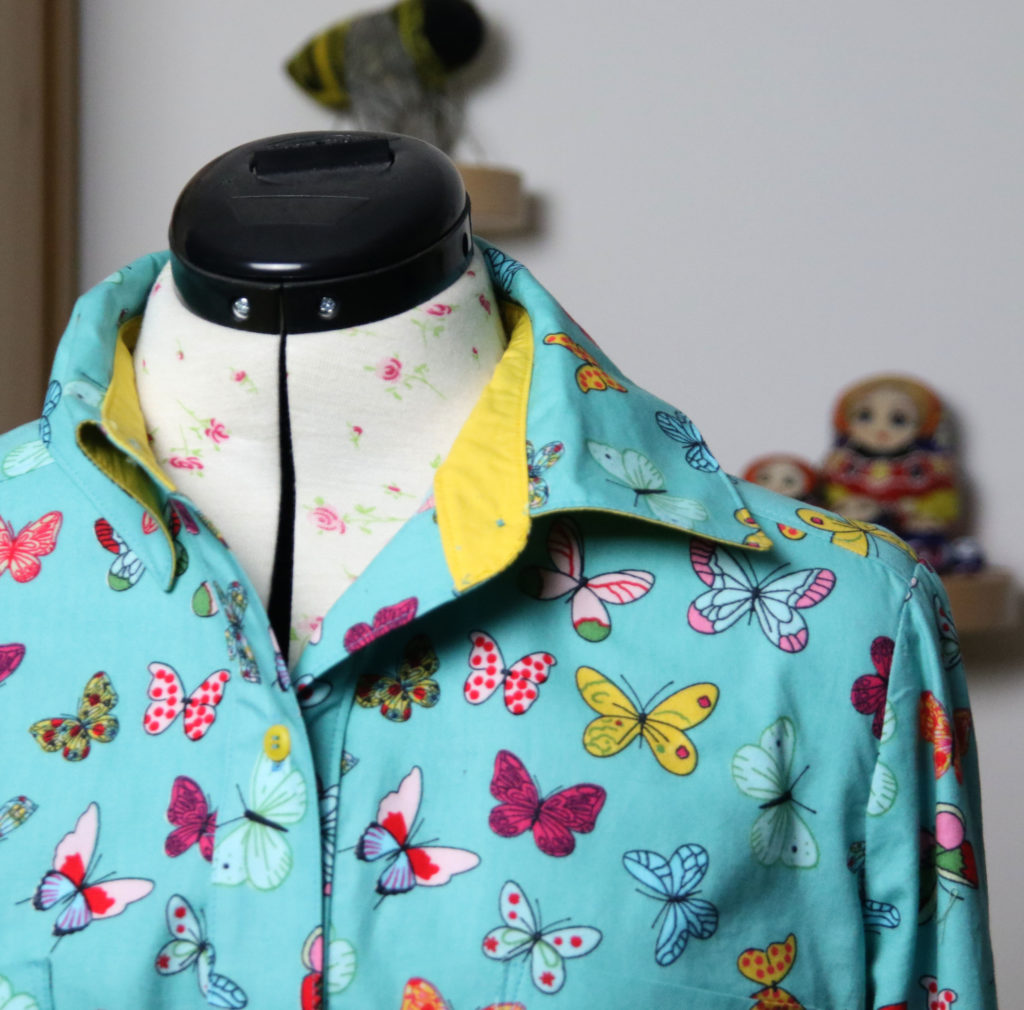 This is the most technical make I have made to date and for that I am very pleased with it, and can set aside my discontent with the top buttonhole.  I am not sure if I would make another as I'm not a huge shirt wearer, but I did enjoy the techniques involved in it so perhaps Phill will finally get the shirt he requested 7 years ago…
You can watch my pattern review on the vlog below: