Recently, I received the latest Tilly and the Buttons book – Make it Simple – as a gift.  here is my first make from it!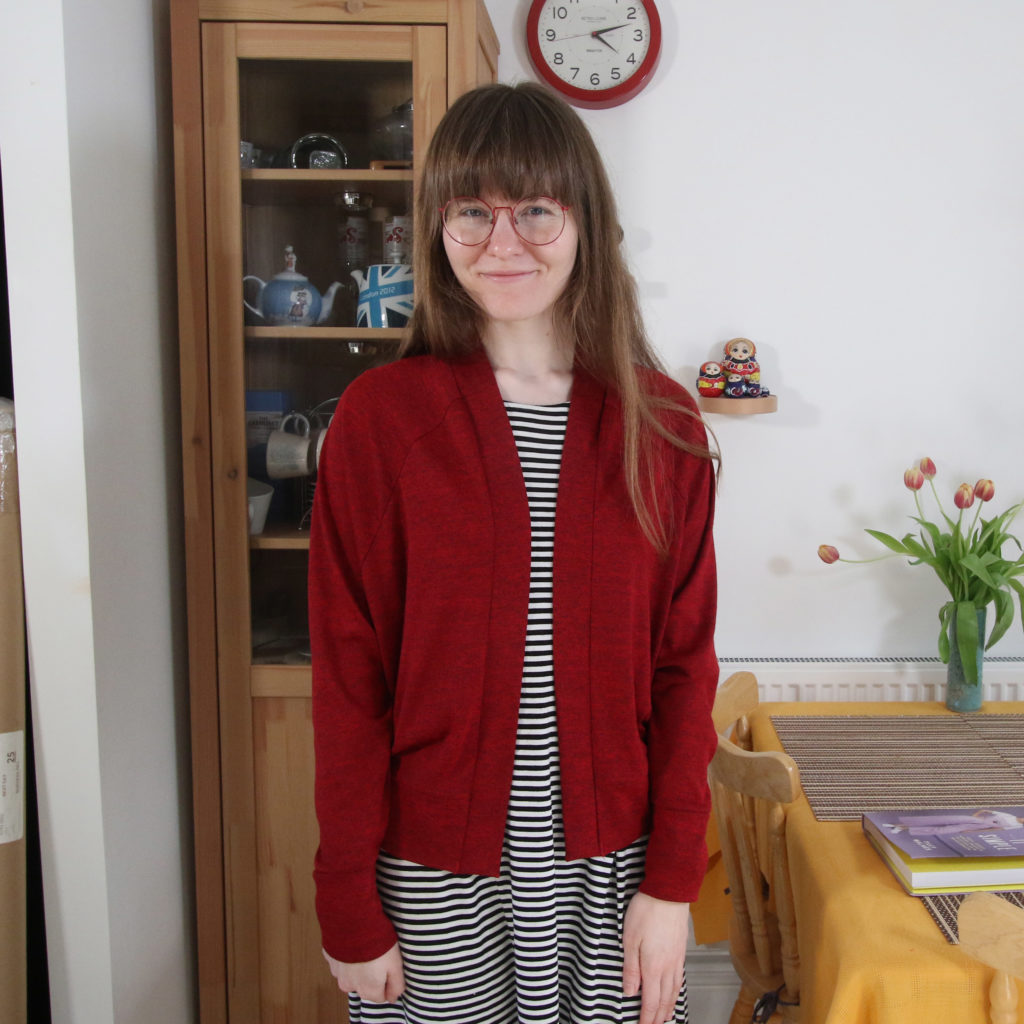 Pattern Details:
Name: Bertha
Variation: Original without additions/hacks
Pattern House: Tilly and the Buttons
Size I made: 4
This red drapey single knit fabric is from my stash and was meant for my nan's Kinder cardigna, but I cut into the wrong fabric for that.  It has a clear right and wrong side.  It was tricky to cut out as it was hard to lay out on the table to cut.  I had to cut a couple of pieces twice as I hadn't laid the fabric out straight first time.  However, the fabric feels nice and looks smart.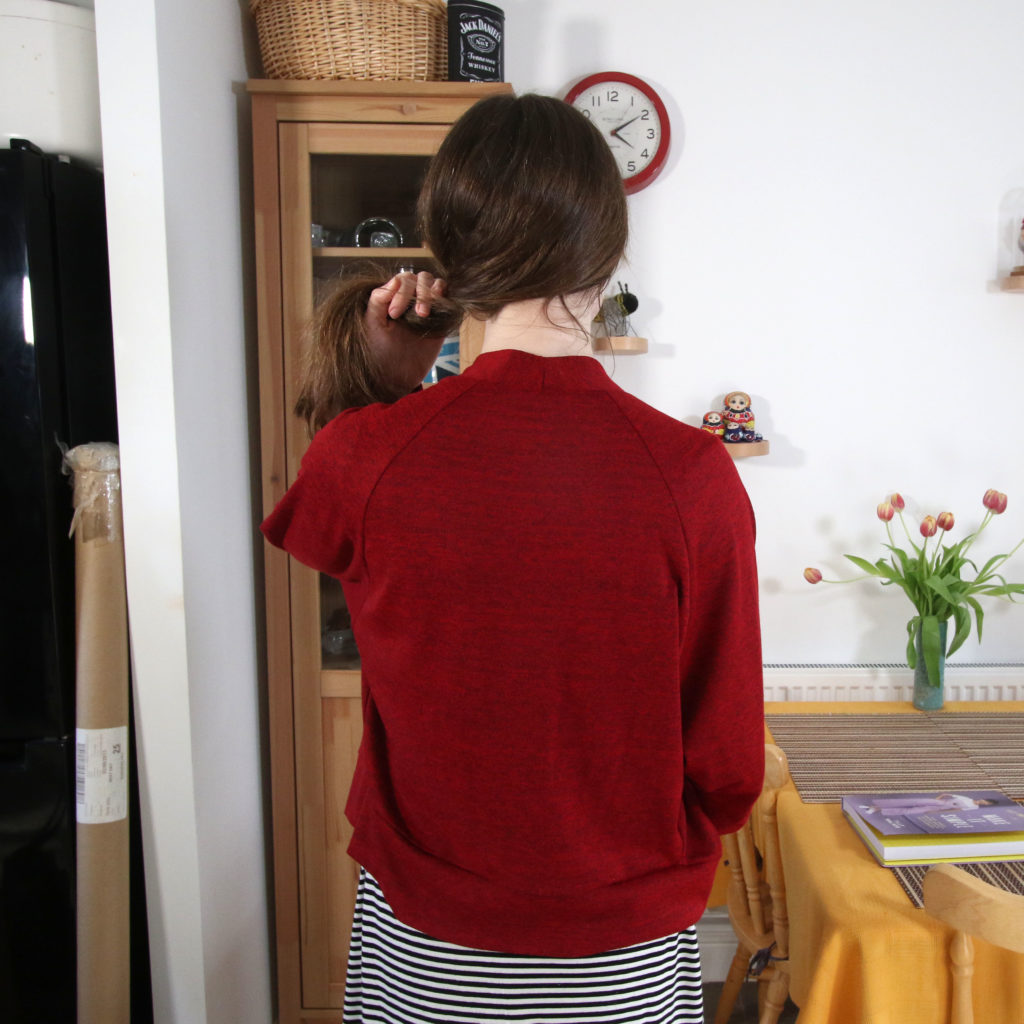 The pattern is straight forward and simple.  It's suitable for a beginner but has a few pattern pieces and is in knit fabric.  I made mine completely on the overlocker – minus the final stage where you secure the neckband hem to the hem band.  I followed the batching checklist which is designed to be a faster method of working but looked at the more detailed instructions when I needed clarification on any point.
I didn't struggle with any aspect of the instructions and found the checklist worked well with how I like to work.
As intended, Bertha is loose fit in style to avoid excessive time on adjusting it to fit.  I would consider lengthening the sleeves next time as I'm only just comfortable with this length on me – but this is personal preference (technically they are long enough!)
I chose to avoid pockets on this occasion as I felt this fabric would look nicer without and made it look smarter if used for work.
I was very interested to track the time it took as the book does give guidance on this.
For cutting time it advises it will take around 40 minutes, but it took me about an hour – but I did go wrong and I am a slow cutter.
For sewing/construction time, it advises 1 hour 35 minutes.  It look me 2 hours 20 minutes.
The guide times are like those you get in a recipe book where it is just a guide and it may be that you are faster second time round.  I do think I may have been a bit speedier if I had been a bit more organised though!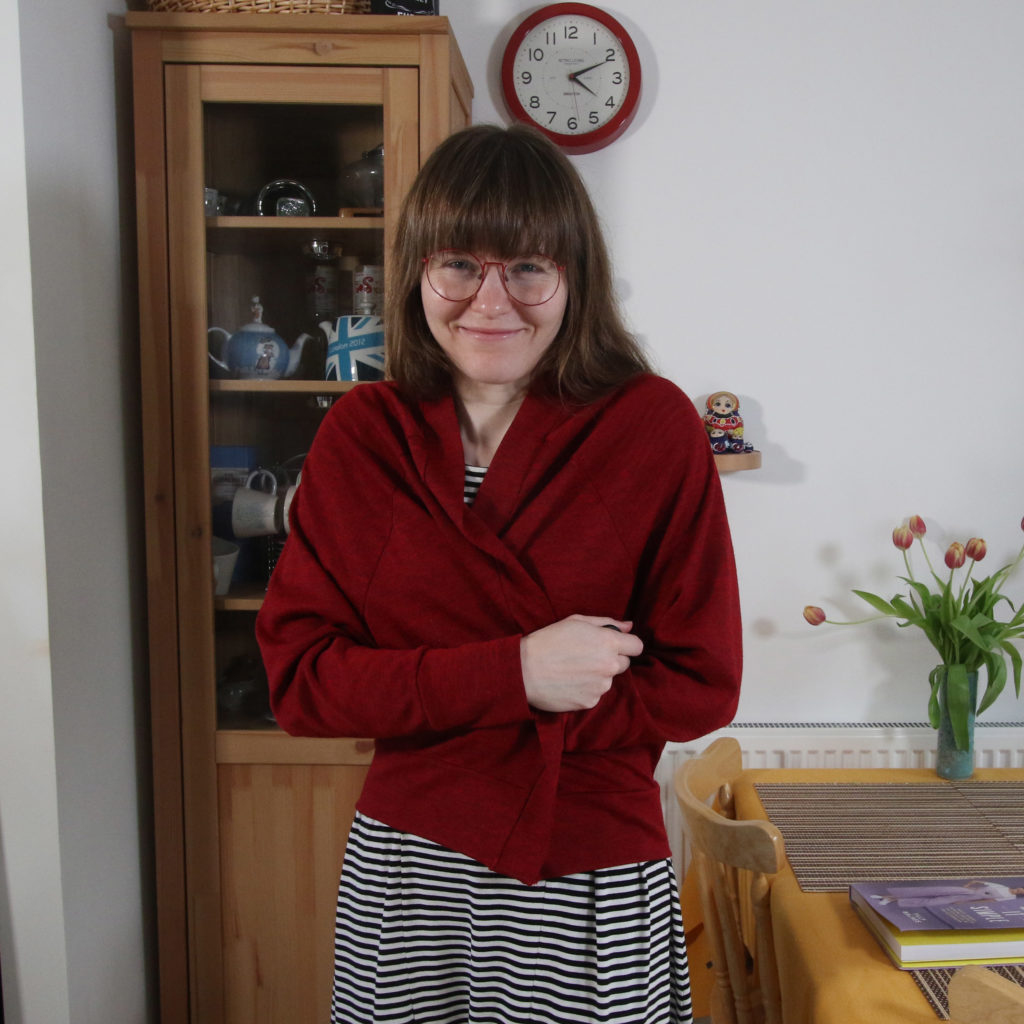 A very fast make, and definitely possible to make in an afternoon.  I'm very happy with it and can't wait to try out more patterns from the book.
You can watch my related video on this make below: